Sitia
(updated August 4, 2007)
Sitia is the most eastern town of Crete and lies about 140 kilometers east of Heraklion. It was built in a half circle around the bay of Sitia. There are about 9,500 people living in the harbor town. It is a quiet and traditional atmosphere prevails. Furthermore, there are few tourists.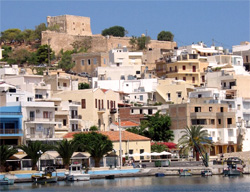 Sitia
Archaeological excavations indicate that the location of the town is inhabited from as early as the Neolithic period. In 1508, the city was devastated by an earthquake. In 1538 the same happened with the city, but this time the pirate Barbarosa was the cause. During the Venetian period Sitia was the main port city of east-Crete. The Venetians destroyed the city, in the year 1648. They did this to prevent Sitia for falling into the hands of the Ottomans (Turks). After this the place was no longer inhabited until the year 1870. The current city was founded that year by the Turkish occupiers.
Above the town towers the Kazarma (Casa di Arma). This is a Venetian fortress from the middle Ages. In ancient times, there was a wall around the town. The Kazarma is the only remnant of this. The place has a folklore museum. A visit to this museum is not worthwhile. You can find things like old carpets, rugs, furniture, costumes and earthenware pots in this museum. Much more important is the archaeological museum. Here you'll find a beautiful collection of local finds, from the Neolithic to the Roman period, exhibited. Also exhibited is stuff from the Minoan palace of Zakros. The clay tablets, written in Linear A, are important components from the collection of the museum. The museum is open from Tuesday to Sunday from 8:30 am to 15:00 pm. Access costs about 2 euro's.
In the center you will find a number of cozy streets. And east of the port is a beautiful sandy beach. Here you can rent deckchairs. Even in high season it is not crowded on the nearly 1,000-meter-long beach.
There are plenty of places to stay overnight in Sitia. Also, there are enough places to eat. All of them need the recommendation, especially in restaurants on the waterfront, to be careful with the choice of a restaurant. Not all restaurants are equally good in terms of hygiene.
In the summer there are 15 buses daily to Agios Nikolaos, of which 8 continue to Heraklion. The trip to Heraklion takes about 3 hours and fifteen minutes. Agios Nikolaos is directly reachable by bus from Heraklion. Among the places this bus stops in are Chersonissos and Malia. Even with a rental Sitia can easily be reached. When you drive on the main road of Crete in an easterly direction to Agios Nikolaos you keep following the road in an easterly direction to Mochlos / Sitia. This road brings you in Sitia.