Ierapetra
(updated August 5, 2007)
Ierapetra is the most southern town of Europe. With 12,500 inhabitants it's the fourth city on Crete. Ierapetra lays in the southeast of Crete, about 30 kilometers south of Agios Nikolaos.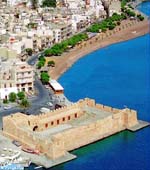 The fort of Ierapetra.
During the Dorian period Ierapetra was a major city. It was the city that the last of the Greek cities which fell into the hands of the Romans. They made it their most important port for the conquest of Egypt. From this period almost nothing survived. Of the Venetian period are little more things survived.
Nowadays Ierapetra is a prosperous city. Many farmers live in the surroundings. They earn their money with growing vegetables in the greenhouses. Things which other places on Crete have in abundance are better dosed in Ierapetra. It makes a stay in Ierapetra more relaxing.
In Ierapetra you can find some remnants of the middle Ages. In the port you will find a fortress called Kales from the year 1212. There is also a medieval fortification in the port and a typical old mosque from the beginning of the Islamic era, with a fountain called Krini. Today, the mosque is used as a music school. In the old city center you will find a house where Napoleon Bonaparte stayed in July 1798.
Ierapetra also has an archaeological museum. This museum consists of a large space in which a number of issues stand out. The museum is housed in an Ottoman (Turkish) school from 1899. Because of the limited collection, a visit to the museum is worthwhile especially for people with a superficial interest in the ancient culture.
Along the coast of the town you will find sandy beaches. These beaches in the summer, however, are quite busy. From the center of Ierapetra boats depart to the island Chrissi. This so-called golden island lies at 13 kilometers off the coast of Ierapetra. The boat trips to the island are very popular, so it can get very busy at Chrissi. A return ticket costs about 20 euro's.
Ierapetra is best reached by bus from Agios Nikolaos. In the summer six buses a day to Ierapetra depart from Agios Nikolaos. A taxi ride from Agios Nikolaos costs about 25 euro's. Up to 4 persons can join the ride. With a rental you can reach Ierapetra easily. From the end of the main road on the island in Agios Nikolaos you drive in the direction of Sitia. Immediately after Palia Amos you go right at the junction in the direction of Ierapetra which lies at the end of the road. On this route you'll pass the narrowest point on the island of Crete!