Archanes
(updated August 4, 2007)
Archanes is a small village at about 16 kilometers south of Heraklion. It is located in the center of a wine-producing region. Archanes has won awards for the way it is restored. If it received an award as the second-best restored village of Europe. This makes a visit to the village worthwhile.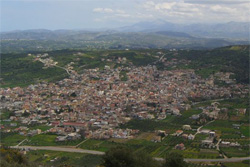 View over Archanes
Archanes was inhabited from the Neolithic period. The Minoans built a great palace in the town. This was a powerful place. The palace was destroyed several times. The power of the place in the region came to an end during the Dorian period.
Nowadays Archanes is a prosperous place. There are accurately restored neo-classical houses and the streets, squares, cafes and hotels radiate a cozy atmosphere. Also, there are a number of churches and chapels in the village. On the outskirts of the village you will find the church of the holy trinity (Agia Triada), which presents a number of Byzantine frescoes from the fourteenth century. In the churches of Asomatos and Agia Paraskevi you can also find frescoes from that period. These are of lesser quality than those in the Agia Triada. In the center of the village you can find a white church with a bell tower. In this church you can admire a sixteenth-century icon. Just outside the village you will find a Minoan cemetery.
A visit to the archaeological museum of the village is worthwhile. Archaeological finds from the region are exhibited here. The showpiece of the museum is a dagger, which was found in 1979 in the Anemospilia temple. The museum is well-organized and very informative. The entrance will cost about 2 Euros. The museum is opened during summer from eight thirty morning until two thirty pm.
A few traces of the ancient Minoan palace can be found close in the village. Along the main road through the village you'll find the site of the old palace.
The bus from Heraklion to Archanes rides on a once a half hour schedule in the beginning of the morning. From 10 am in the morning till seven o'clock in the evening the bus rides according to a one hour schedule. The ride takes about half an hour. Archanes is also easy to reach by rental car. Drive through the main road along the north coast of the island to Heraklion. In Heraklion you'll need to take the junction to road number 99 toward Knossos. You pass Knossos and continue in the direction of Archanes, which is marked reasonably well.