The lake of Kournas
(updated August 5, 2007)
The lake of Kournas is the only freshwater lake on the island of Crete. The diameter of the lake is approximately one kilometer, and it is about 45 meters deep. The lake exists because underground water sources push up water, which fills the lakes. The Lefka Ori Mountains around the lake give it a special appearance.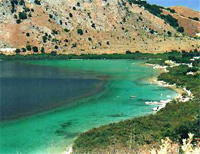 The lake of Kournas
Around the lake is a small strip of sand, but there are no real beaches. The lake is ideal to go swimming. There are several places were canoes and water bikes can be rented. If you are lucky, you can find animals around the lake. Little turtles, crabs and fish can be found. You can also find snakes. There are small restaurants, bars and some small simple apartments in the immediate vicinity. Except for that the area around the lake is very quiet.
There is an old myth known about the lake. It goes something like this: The outskirts of the village Kournas was a sinful region. The last virgin in the region was the daughter of the priest of the village. She was incredibly beautiful. The ungodliness in the area took such serious that God decided that it was enough. He brought torrential rain which flooded the valley, the village disappeared, and there was an end to the sins. The innocence of the Virgin ensured there that her soul was spared. It seems like her soul still guards the lake and its surroundings. People believe her ghost appears above the lake each day at noon.
The village of Kournas is located at about 5 kilometers inland and is also worth visiting. It is a village in traditional style. There are some Kafeneia, and you can get a good meal. There are no places where you can stay overnight. There is also a potter that you can visit.
The lake of Kournas lies about halfway Chania and Rethymno. It is easiest to be reached with a rental. You leave the main road on the island about halfway Chania and Rethymno at the village of Georgioupolis. From there you can change to the road towards the village Kournas. The lake is located about halfway this road; about 4 kilometers away from the main road. In the summer a sort of "Happy Train" drives to the lake from Georgiopolis. Georgiopolis can be reached by the bus which drives from Heraklion to Rethymno and Chania and vice versa. This bus drives dozens of times a day at about every half hour.