Frangokastello
(updated August 5, 2007)
The Venetian castle of Frangokastello lies on the southern coast of Crete, southwest of Rethymno, and approximately 14 kilometers east of Hora Sfakion. The Venetians called it 'Castle Franco'. The castle was built in 1371 to control rebellion on this part of island and protect it against pirates. Soon after the building was completed the castle fell in the hands of the Turks. Since then there has been a lot of bloodshed in the castle.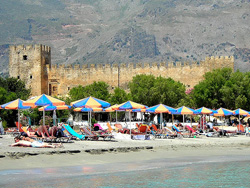 Frangokastello castle
Resistance hero Ioannis Vlachos ( Daskalogiannis ) surrendered to the Turks in this castle in 1771. After that he and some of his troops were savagely murdered.
During the war of independence against the Turks the rebels, led by resistance Hatzi Mihalis Dalianis, occupied the castle in 1828. After that the Turkish leader Mustafabey besieged the castle for 7 days. During this battle about 385 resistance fighters died, including Dalianis. There was, however, support from other resistance groups. These attacked Mustafabeys' troops in the back after which some 800 Turks lost their lives. Mustafabey was forced to award the remaining resistance a free retreat. Later Mustafabey wanted to march from Frangokastello to the north. However, he and his troops were attacked when they walked into an ambush in the gorges.
Nowadays you can still visit the castle. But apart from the castle, there is not much to see in the area. You can combine a visit to the castle with a visit to the beach. In front of the castle is a long and wide sandy beach. Frangokastello is not accessible by bus and few excursions visit the castle. So the easiest way to go to the village is by a rental. When you are on the road from Rethymno to Chania, you can turn to Vrisses / Hora Sfakion halfway. From that road you can turn in the direction Vouvas. Frangokastello lies at about 9 kilometer after that village.