Ioannis Vlachos (Daskalogiannis)
(updated August 4, 2007)
Ioannis Vlachos is one of the most celebrated Cretan resistance heroes from the eighteenth century. He is better known as Daskalogiannis which means 'Gianni the teacher'. Vlachos was born in Anopoli. His family earned a lot of money from merchant shipping. He also personally owned ships and traded goods in major ports around the Mediterranean Sea.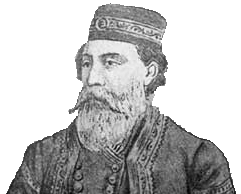 Ioannis Vlachos
Vlachos organized, led and supported the uprising against the Ottoman (Turkish) occupiers of Crete in April 1770. He tried to drive away the Turks from Crete with the support of Russian Admiral Orlof. But when the revolution started in Sfakia, which never came in Turk hands, the Russians did not show up. With 1,300 poorly trained fighters he had to fight against 40,000 Turks. They couldn't keep up against such a large majority. In order to save his own men, Vlachos signed an agreement with the Turks at Frangokastello in March 1771. When he, in the company of 70 of his men, signed the truce he knew that he marched into an ambush. He hoped, however, that he would be seen as a martyr. He hoped the struggle for independence continued, in which he would be seen as an example. After Vlachos was captured, the Pasha of Chandax (today Heraklion) recommended to skin him alive. This happened on June 17, 1771. Witnesses said he didn't betray his men during the torturing. Shortly hereafter Vlachos died.
The death of Vlachos was certainly not meaningless. It was a first step toward the independence of Crete. In all revolts and struggle to gain independence from the Turks, which followed Vlachos was seen as an example and source of inspiration, until the final revolution took place in 1898.
At various places on Crete you can find monuments in memory of Vlachos. In Anopoli the house where he was born remains. Also you can find a statue of him at the central square of Anopoli.